Local Office Member Spotlight
Meet Lizzie!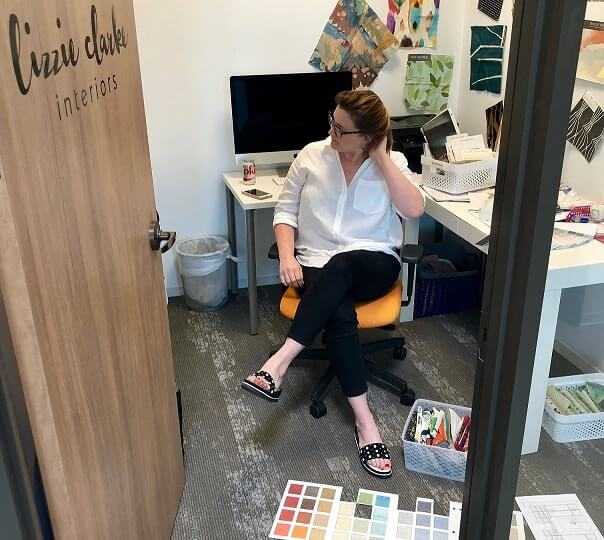 Lizzie Pincoffs Clarke was born in Austin, TX and showed a clear passion for art and creativity from the get-go.  Her parents remember moments when she should have been sleeping, but they would hear all kinds of curious sounds coming from her bedroom – and, every single time they checked they would find her – unable to sleep and rearranging her furniture.
Interior spaces have given her endless sleepless nights since.  She began, inspired by her Grandmother, Mary Elizabeth Pincoffs, a painter, on a path towards Studio Art and enrolled at Denison University, a private liberal arts college outside of Columbus, Ohio.  There she received her B.A. in Spanish and Studio Art.  As she worked on building her portfolio her senior year of college, she recalls a much loved painting teacher saying, "Lizzie, you've got to quit making art just so it will look good on your walls".  She realized quickly, she was better suited creating beautiful spaces rather than beautiful art.
After years in the corporate world in Austin, she and her husband found their family growing.  They moved to Houston for his work and she decided she would stay home with their new son, Shep, and create artwork.  Lizzie and her husband found a shared passion for real estate and renovating spaces.  Their family grew with the birth of their daughter Lyle in 2013.  In 2016, after gaining some experience from one of her dearest friends, and, most admired design talents, Ashley Goforth – she took the leap into entrepreneurship. Her business has grown quickly, and she is now working on full turn-key projects in her most revered neighborhoods in Houston.
Lizzie is mostly known for her livable approach to luxury and creating inspired spaces people can comfortably and realistically live in.  She is not afraid to take risks.  Lizzie loves the process of getting to know people and creating spaces that are a true reflection of each of them.  Lizzie and her family are soon making the move back to her hometown of Austin, and are excited about the future ahead.
I asked Lizzie some hard-hitting questions, and these were her reactions:
If someone wrote a biography about you, what do you think the title would be?  Hmm, if it happened in this exact moment?  ALWAYS MEASURE YOUR SOFA AND THE DOORS YOU NEED TO GET IT THROUGH!  Amateur mistake, lesson learned.  On a better day, I hope it would be more along the lines of "GRIT and GRACE in DECORATING and LIFE"
What is your favorite drink?  Topo Chico,  Wild Child smoothie from Juiceland.  When I am imbibing, which seems to happen too often, I love Secateurs Chenin Blanc or a good old frozen marg, no salt.
If you could trade places with any other person for a week, famous or not, living or dead, real or fictional, with whom would it be? Dolly Parton, obviously.
What piece in your portfolio are you most proud of?  Hmmmm…..  there is so much in the works yet to be photographed I am excited about, but e everyone is going to have to wait and see.  If I had to pick one shot from my website portfolio it would probably be the entry I have on the homepage.  Its classic, but bold, its timeless, but current, and I love the little piece of art.  I found it in Roundtop and framed in in my late grandmother-in-law's gold frame.
Why Local Office? Well,  I'm actually sitting in my new office on a Saturday because I needed to get out of the house and knock a few items off of my to do list.  The reason Local Office is a great option for me is because I was running my company from home.  With two small kids and a growing business, I had to have somewhere to go where it was quiet and I could get things done.  I realized I was losing about 10 hours of productivity a week trying to work at home because the kids get home at 3 and I needed to work until 5.  Leasing a space has helped me immensely as a working Mom.  I am able to have a space that is my own where I can be productive and I am also able to be more engaged with my family when I get home at the end of the day because my work is at work.
The other great part about Local Office for me is the flexible terms.  My family is moving to Austin in a few short months but I need a workspace, and this is the perfect option.
To find out more about Lizzie: